Guernsey KGV redevelopment plans released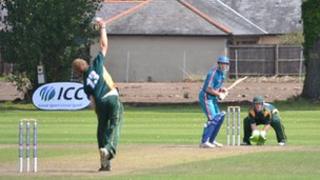 Plans have been released for a multi-million pound redevelopment of Guernsey's KGV sports ground.
The Sports Commission has applied for planning permission to turn the site in the Castel into a centre for sport and the community.
It plans to raise the £3.5m needed for the project through fundraising, sponsorship and donations.
If the plans are approved work could start in October with a finish date of June 2014.
The KGV playing fields were created 75 years ago through public subscription.
The proposals include the area becoming home to the Sports Commission, Headway, the Dyslexia Day Centre, Guernsey Sports Association for the Disabled, the Guernsey Football and Rugby Associations and the island's cricket board.
They also include a floodlit all-weather games area for football and rugby, two half-sized grass rugby pitches, a new changing room block and an assembly room.
'Hurdles to jump'
A commission spokesman said they hoped the centre would have "a village green atmosphere, based on a business model that encourages day-to-day use by both sports users and the larger community alike".
Stuart Falla, chairman of the commission, said: "This is an exciting and significant stage in developing our ideas for KGV.
"The playing fields have been successful for 75 years and it's the Sports Commission's task to make them fit for another 75 years."
"There are many hurdles to jump not least to satisfy the planners, our neighbours and then raise all the money," he added.
"But hurdles are there to be jumped and we already have a great deal of goodwill behind us."