Guernsey's cider crops 'may be affected by weather'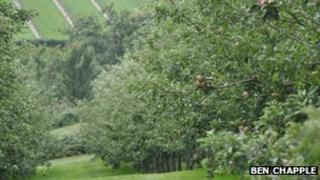 Strong wings may have affected the apple crops of Guernsey's only commercial cider producer.
James Meller, director of the Guernsey Cider Company, said winds in the past month may have deterred bees from pollinating cider trees.
However, he said: "I've still got good hopes for this year, I think the national stories you get - we're sometimes different from that."
Crops in Guernsey were hit by bad weather conditions in 2011.
Mr Meller said stocks for the rest of the year were sufficient.
He added that he would be accepting apples from islanders to aid production, as he had done in previous years.
Mr Meller said only a few of his apple trees had begun to blossom, but added that he remained positive.
He said: "We've had a lot of moisture that might benefit us later on because the apples last year were quite small."
The Guernsey Cider Company produces Rocquette Cider, which is bottled and sold in the island.