Guernsey States 'could save time' with Twitter, says deputy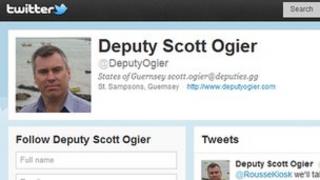 A Guernsey politician has hit out at criticism of social networking websites and said they could even help save time for the island's government.
Deputy Scott Ogier, who regularly uses Twitter, said social media could help States departments deal with queries.
He said: "Rather than having to send press releases out, it might be easier for a department just to tweet."
His comments came days after Social Security Minister Allister Langlois warned against relying on such sites.
At the time, Deputy Langlois said: "We must never... lose sight of the fact that we represent all of the electorate."
He said: "The person who has a passing interest... do they want to constantly be reading Twitter, or even listening to the radio, or even looking at the [Guernsey] Press, no they don't."
However, Deputy Ogier said Guernsey could learn from the Isle of Man government, which had a number of Twitter accounts.
He said: "I think it should be more widespread as I think it's an excellent way of getting a message out. It's a great communication method, as long as its used in the right way.
"People prefer different methods of communication... I'll respond to people in whichever method they choose to communicate with me."
He warned his fellow politicians against ignoring social media, and said they might find themselves sidelined in the future if they did.