Channel Island chief ministers promise more sharing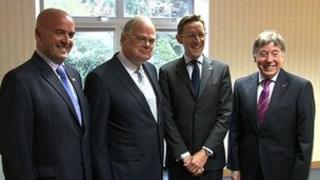 Guernsey and Jersey's chief ministers have vowed to work together more closely on areas of mutual interest.
It follows the first meeting of the islands' leading politicians since Guernsey's general election in April.
Guernsey's Chief Minister Peter Harwood and his Jersey counterpart, Senator Ian Gorst, both suggested there was further scope for more joint working.
Deputy Harwood said it was especially important in the current financial climate.
He said: "There are areas we are cooperating quite extensively, it makes sense for both islands to look at further cooperation.
"We all have resource constrains and if we can share resources so much the better."
Senator Gorst said: "I think there are lots of areas we can work together where both islands can make savings, but also crucially internationally I believe that we are seen as the Channel Islands and we need to present a united front."
Deputy Chief Minister Jonathan Le Tocq and Jersey's Assistant Chief Minister Paul Routier also attended the meeting at Sir Charles Frossard House in Guernsey.