Queen's visits remembered by Guernsey exhibition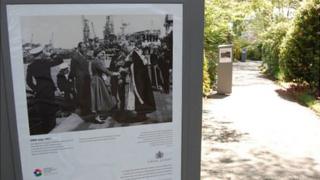 Photographs of Queen Elizabeth's visits to the Bailiwick have been displayed in Guernsey's Candie Gardens.
The exhibition has been put together by Guernsey Museums and Galleries, and can be viewed during the day until 24 June.
The images document the five visits the Queen has made since she acceded to the throne in 1952.
They have been compiled from photos from the Royal Court, the Lieutenant Governor's office, the Guernsey Press and two local photographers.
The Queen has been accompanied by Prince Philip on all of her visits to the island.
They were presented with gifts for their children, Prince Charles and Princess Anne, at Cambridge Park where more than 6,000 schoolchildren had gathered to welcome them.
A visit to a tomato vinery, Guernsey's biggest industry at the time, was on the agenda for her 1978 visit along with trips to Alderney and Sark.
The Royal couple returned to those islands during their 1989 trip, which saw the opening of a medical centre in Sark and of Guernsey's Queen Elizabeth II Marina.
The opening of a museum dedicated to Guernsey's Own 201 Squadron and the unveiling of the Millennium Stone at L'Ancresse were on the itinerary for 2001 as well as repeat visits to Alderney and Sark.
In 2005 the Queen and Prince Philip visited on Liberation Day, 9 May, to celebrate the 60th anniversary of the islands' liberation from German occupation during World War II.
The Queen and Duke of Edinburgh had also visited the island in 1949, three years before the death of her father and her accession to the throne.
Chris George, a former Guernsey Press photographer who donated some of the images, said: "A Royal visit is always a great occasion and could make a photographer very nervous."
He said: "I first covered a visit of the Queen in 1989 and we were using black-and-white film then, so when we were in the dark room processing them, it was a nervous time to see if you had mucked up. Fortunately that didn't happen."
Mr George said the greatest skill for covering any Royal visit was "to have eyes in the back of your head, as you spend most of your time walking backwards".