Guernsey schoolgirl injured in accident with bus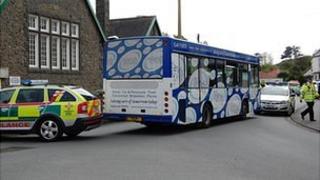 A schoolgirl has been taken to Guernsey's Princess Elizabeth Hospital after suffering a leg injury in an incident involving a school bus.
The incident in Grandes Maisons Road, St Sampson, occurred about 15:00 BST and the road was closed for about two hours.
Sgt Martin Harris said the girl was believed to be aged 12.
He said: "Somehow she ended up in a collision with the bus and she has sustained a very nasty leg injury."
Sgt Harris said it was thought she had got off the bus shortly before the incident.
An ambulance and other emergency crews, including civil defence volunteers, attended the scene.