Travel card scheme to help disabled people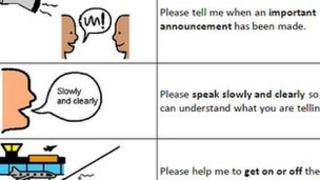 Travellers with a disability are to be offered additional help when making their way to or from Guernsey.
A disability travel card - the size of a credit card - has been designed by the Health Information Exchange and will be available from Wednesday.
Staff at Channel Island and UK ports and airports have been made aware that card-carriers may need assistance.
Applicants will need a letter from their GP, but the card will not carry personal data.
The harbours and airports at Guernsey, Alderney and Jersey will participate in the scheme, along with Gatwick, Southampton and Exeter airports and Poole, Weymouth and Portsmouth harbours.
Wendy Beaven, the director of services at the exchange, said: "The card will not entitle passengers to additional services but it will alert staff to those who may need extra assistance."
Temporary cards for one-off trips will be available, as well as longer term cards.
Travellers will also have the option of carrying information sheets from which they can select messages for port staff.