Guernsey private jet hangar plan approved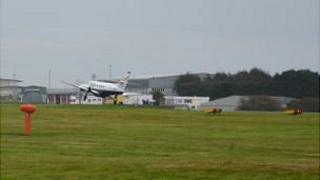 An application to build a hangar for large executive private jets next to Guernsey Airport has been approved by the Environment Department.
EGJB Hangarage put forward plans to build the hangar with a taxi-way, apron and car parking to the west of existing Guernsey Aero Club hangar.
Fourteen objections were lodged to the plans, including concerns the hangar would be used for smaller planes.
The political board of Environment voted 4-1 in favour of the proposals.
Guernsey Airport authorities supported the development as they wanted to diversify the airport's economy by attracting corporate jets and bringing business to the island.
Seven applications to build a hangar for smaller aircraft on the site have been turned down in the past.