Guernsey's new States assembly's first monthly meeting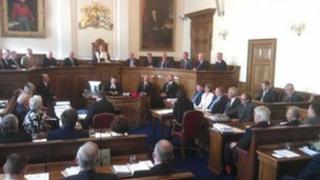 Guernsey's new States assembly will face a light agenda for the first monthly meeting of its four-year term.
Vacancies in the Parochial Ecclesiastical Rates Review Committee and the Guille Alles Library Council are among the items to be debated.
Elsewhere, members will be asked to discuss a report on increased declarations of financial interests for members, along with online tax returns.
It will be the members' first monthly meeting since the 18 April election.