Guernsey's Housing Department discusses tower block plans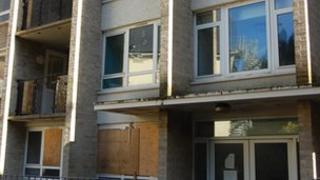 Refurbishing a disused block of flats in Guernsey may be possible without any cost to the taxpayer, said the island's Housing Minister.
The Cour du Parc tower block in St Peter Port has been empty since February 2011.
Deputy Dave Jones said: "There are plans for Cour du Parc... we believe that one of those plans consists of no cost to the taxpayer at all."
He said some delays had occurred due to the general election in April.
Deputy Jones said: "There has been some slippage, because obviously we've had an election and a new board."
But he assured States members that plans for a complete refurbishment were being discussed.
Cour de Parc was closed after it was deemed unfit to house its mainly elderly residents.
Graham Guille, the former Deputy Housing Minister, said in April 2012 that the block needed extensive work to make it habitable.
He said: "Work includes making balconies safe, fixing the existing lift, installing a second lift and the replacement of the central heating system."
A number of St Peter Port residents raised the issue of Cour du Parc at the parish's hustings meetings ahead of the general election.