Diamond Jubilee: Guernsey marine ambulance prepared for pageant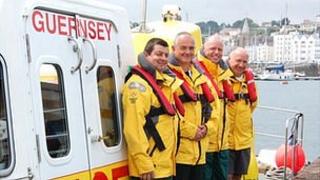 Guernsey's marine ambulance, the Flying Christine III, has arrived in London to take part in the Diamond Jubilee Pageant.
It will be among about 1,000 boats sailing down the River Thames on Sunday to celebrate the Queen's 60 years on throne.
Chief Ambulance Officer Jon Beausire is among those crewing the vessel.
He said it was fantastic to be taking part in such a unique event in the history of the British Isles.
Mr Beausire said: "Never in my lifetime would I expect to be part of something like this celebration, particularly as we are here in Guernsey.
"But, we are unique, we are the only marine ambulance service in the UK.
"Not only will we be representing the island of Guernsey, but we'll also be representing the wider ambulance service.
"What I'm looking forward to most is being part of a celebration that is unique in maybe hundreds and hundreds of years... it's a once in a lifetime event."
The service, which is funded by donations and an annual grant from the island's government, secured sponsorship to repaint the vessel and it will be decked out with bunting before the pageant.
The Flying Christine will remain fully operational throughout the trip and will assist the London Ambulance Service if required.
Mr Beausire said their participation in the pageant was not leaving the island without marine ambulance cover.
"For emergency responses the RNLI St Peter Port lifeboat cover us and for non-emergencies we have a number of private vessels as well," he said.