Torteval house fire cause 'may be unknown for some time'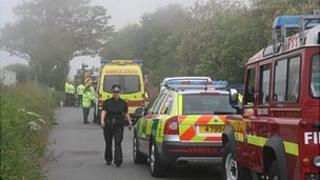 The cause of a house fire in Torteval may not be known for some time, according to Guernsey Fire and Rescue Service.
A spokesman said it may take some time to find the cause due to the extent of the damage to the property.
A passerby called 999 just after 11:00 BST and crews were on site by 11:20.
A spokesman said the main fire was out by 15:00 but damage to the structure meant isolated fires that were hard to get to still had to be tackled.
He said no-one was in the house, no-one was injured and no neighbouring properties were damaged by the fire.
Two water tender appliances attended the blaze and firefighters wearing breathing apparatus tackled the fire.
The spokesman said it was obvious early on the structure was severely damaged and the roof was in danger of collapse and this meant it was unsafe enter to enter the building.
He said most of the roof had collapsed due to the damage.