Guernsey voluntary groups given Queen's Award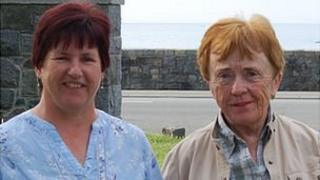 Two Guernsey voluntary groups have received The Queen's Award for Voluntary Service.
The national honour recognises outstanding contributions made to local communities.
The Guernsey Bereavement Service and the Wigwam Support Group were two of 112 groups within the British Isles given the honour this year.
Representatives from the groups attended a garden party at Buckingham Palace to receive the awards.
The Guernsey Bereavement Service was set up 20 years ago and aims to provide support for those dealing with bereavement, acting as a free service throughout the whole of the Bailiwick.
'So honoured'
Maura Stacey, from the group, said: "The first thing, to keep quiet about it, was my problem really, because I was told about it and I just wanted everybody to know.
"I just can't put it into words, it's unbelievable."
Nikki Kerr, from Wigwam Support Group, said: "I was so excited and so proud and for all our volunteers that we have that help the group, so honoured to receive it.
"We support children with special needs and their families and we have over 60 volunteers that have helped us over the years with our group."
Sixteen groups from the Bailiwick have now been given the Queen's Award for Voluntary Service since it was created by Her Majesty to mark her Golden Jubilee in 2002.