Diamond Jubilee: Guernsey ambulance pageant experience 'surreal'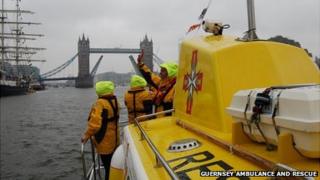 A "surreal" experience was how Guernsey's chief ambulance officer described being part of the Thames Diamond Jubilee Pageant.
Jon Beausire was part of the crew of the island's marine ambulance, Flying Christine III, that was one of the 1,000 vessels that took part on Sunday.
He said: "Going past all those famous landmarks is something that's really taking time to sink in."
Mr Beausire said he was a proud to represent the island and St John.
He said: "It's so difficult to describe in words the enormity of the occasion and whilst the weather was quite wet at times just to see the millions of people lining the Thames banks was just an incredible experience.
"I think what really brought it home to us was as we were approaching the start point to the pageant all the banks of the Thames were lined with people and that was before the pageant route actually started.
"It was just an amazing occasion. It was a particularly great occasion for the service as it is 60 years this year that the marine ambulance service commenced in Guernsey."
He said the ship had been invited to take part after a lot of work by the island's Bailiff chambers and Lieutenant Governor to make sure there was a representative boat for the Bailiwick of Guernsey.
Mr Beausire said: "Obviously this was going to be a trip of a lifetime and a trip that would promote not only the marine ambulance service in Guernsey, but also St John nationally and that's exactly what it did."
Dave Welbourne, voluntary coxswain of the Flying Christine, said: "It took a lot of concentration to ensure we stayed in our position for the seven mile journey passing some of the most famous landmarks in the world, but it was so worth it, I would not have missed it for the world."
The marine ambulance was also on standby if needed to respond as part the London Ambulance Service's coverage of the event and Richard Webber, assistant chief ambulance officer of London Ambulance, said he was honoured to be on board as a liaison officer in case the ship was called to respond.
See all the latest Diamond Jubilee news and features at bbc.co.uk/diamondjubilee