Jubilee hour: Guernsey residents asked to volunteer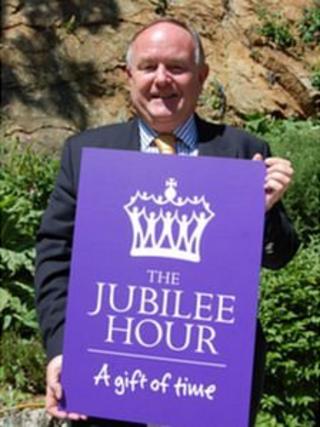 People in the Bailiwick of Guernsey have been asked to give an hour of their time, as part of a volunteering scheme celebrating the Diamond Jubilee.
The idea is for islanders to donate one minute for each year of the Queen's reign to a good cause.
The campaign has the support of the Association of Guernsey Charities and the Guernsey Community Foundation.
Jonathan Haward, the campaign's ambassador, said the aim was to encourage people to do something extra.
He said: "This can be anything from giving a pint of blood, baking a cake for a neighbour, perhaps washing someone's car who has difficultly in doing so.
"Whatever it happens to be, some form of charitable notion and doing this for an hour in honour of Her Majesty the Queen."
Mr Haward said: "Hopefully people will enjoy doing it and they'll want to do more of it in future years.
Anyone giving their time is asked to register on the campaign's website so organisers can see the overall total of the time given to charity.