Diamond Jubilee: 21-gun salute at Guernsey's Castle Cornet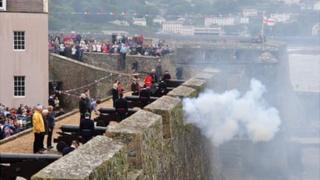 Guernsey's Castle Cornet was packed with islanders for a 21-gun salute to celebrate the Diamond Jubilee.
Among those firing the salute, which started at midday, were 14 volunteers born in 1952 - the year the Queen acceded to the throne.
Battery Commander Marco Ciotti said it all went very well and he was amazed by the crowd that had turned out.
He said: "It was two or three times the number of people I've ever seen turn out for a Royal salute before."
Mr Ciotti said: "It's Guernsey so obviously it's small, but it reflected the size of the amazing crowds we've seen in London."
It was his job to command the crews to fire at 10 second intervals and ensure 21 shots were fired.
He said: "It's not as easy as it sounds, after the first four or five you do have to keep track of it... we did have a misfire, which meant that gun number one picked up the slack and fired the 21st round."
Among the volunteers were Kevin Williams and Annie Savage, from Alderney.
Mr Williams said: "It was a one-off, it will never be repeated and I am very proud to have done it."
Ms Savage said: "It was very scary to begin with, but because we had a practice on Saturday it meant it was so drilled in to us, that is was fine on the day although the tummy was a bit up and down.
"It was a very proud moment."
It was her cannon, which failed to fire and she said: "It was a bit disappointing, but I've been asked to come back to do the noon-day gun sometimes, which I think is really generous."
A cannon is fired from the castle daily at midday when it is open to the public from 1 April to 30 October.
Mr Ciotti said: "Castle Cornet is a very special place in the story of the monarchy, this was the last Royalist stronghold, so the last place in the British Isles that was for the Crown during the English Civil War and it was finally captured in 1651.
"Great to see all these people here giving three cheers for Her Majesty and her Diamond Jubilee."
See all the latest Diamond Jubilee news and features at bbc.co.uk/diamondjubilee