Guernsey stargazers miss Venus transit due to cloud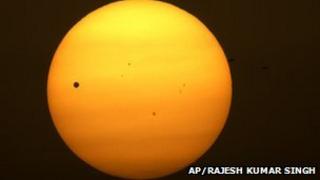 Stargazers in Guernsey were left disappointed after cloud blocked their view of a rare celestial spectacle.
Members of the Astronomy Section of La Societe Guernesiaise headed out to Bordeaux at 04:30 BST to see the planet Venus pass across the face of the sun.
The transit, which is next due to happen in 2117, was due to be seen for about 50 minutes after sunrise.
David Le Conte, part of the group, said the rarity of the event made the poor visibility particularly disappointing.