Fire at Atlantique Hotel in Guernsey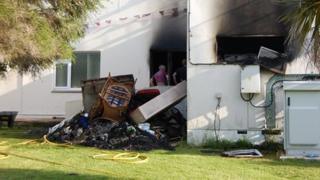 Guests at the Atlantique Hotel, on Guernsey's west coast, were evacuated in the middle of the night after a fire broke out.
The blaze started just after 03:00 BST in the laundry of the hotel at Perelle and was put out in under an hour.
It caused serious damage to the hotel's laundry and office and smoke damage to the kitchen and adjoining rooms.
The 33 guests were transported to another hotel for shelter. The fire is not being treated as suspicious.
Leaseholder Roy Smith said he had yet to be allowed in the building to assess the extent of the damage, but he expected the hotel to be out of action for a couple of months.
He said the fire had taken out the building's electrics and mains water.
Mr Smith, who lives on the site, said his priority was to find alternative accommodation for all the guests.