Atlantique Hotel leaseholder feels 'lucky to be alive'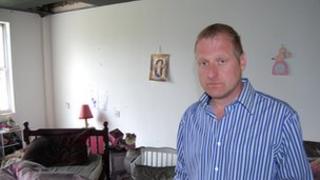 The leaseholder of the Atlantique Hotel on Guernsey's west coast said he and his family were lucky to be alive following a fire on Monday.
Thirty four guests were evacuated from the hotel when fire broke out in the laundry room in the early hours.
Roy Smith, whose family lives in the flat next to the laundry, said they had had a narrow escape.
"Another 10 minutes and I don't think me and my family would have been alive," he said.
Mr Smith said: "The fire officer who attended said if they hadn't got here in the time they did... the whole hotel would have gone.
"It's just luck that somebody in the hotel smelt the smoke and raised the alarm because the fire alarms went off and we got everyone out as soon as possible," he said.
The Guernsey Fire and Rescue Service said the evacuation of the site by the management had been efficient.
Steve Wilkes, the duty officer at the time of the incident, said the fire was "well alight and spreading rapidly into the main hotel" as they arrived.
Police, fire officers and a visiting UK forensic expert were still investigating the cause of the fire on Tuesday.
It was not being treated as suspicious.
Rallied round
The fire caused structural and smoke damage.
Mr Smith said he did not know when the hotel might reopen but he was grateful for the help his family had received.
A neighbour has accommodated his family in a self-catering cottage.
"Everybody's rallied round to help us," said Mr Smith.
"My children go to Blanchelande College and all the mums there have got together and got some clothes for the kids, so that's been nice," he said.