Guernsey Electricity cable link repair expected in July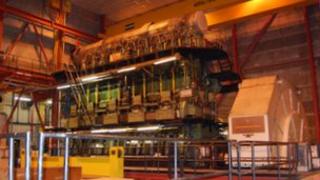 Guernsey's broken electricity cable link to Jersey and France will remain out of action until next month at the earliest.
All Guernsey's electricity has been generated at the island's own power station since 29 April, when a fault interrupted the cable supply.
The fault has been located to a section of cable buried under the seabed about 10km east of the island.
Guernsey Electricity said it expects the cable to be repaired in July.
Alan Bates, the company's managing director, said: "Obviously this is a significant and complex operation."
A survey vessel has been commissioned to help locate the source of the problem.
The owner of the cable network is the Channel Islands Electricity Grid (CIEG) - a joint venture between Guernsey Electricity and Jersey Electricity.
Mr Bates said negotiations between CIEG and the cable manufacturers and insurers were "in the final stages".
He said: "If all goes to plan, cable ship work can start in July."
CIEG expects to be able to use a spare section of standby cable which it has stored with specialists in Sweden.