Guernsey Museum and Art Gallery puts art centre stage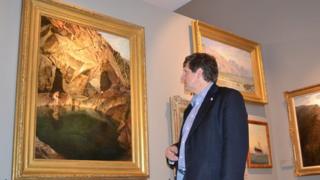 The Guernsey Museum and Art Gallery has put some of its best loved paintings on public display in a new gallery.
The Rona Cole Art Gallery, named after the museum's first director, was previously located in a small space now occupied by the Discovery Room.
The new gallery will display a varied collection of paintings ranging from the Baroque to the post‐modernist.
It includes works by well‐known artists as well as unknown amateurs.
Dr Jason Monaghan, the museum's current director, admitted the new display had been a long time coming.
He said: "People have always been asking us: 'Guernsey Museum and Art Gallery? Where's the art gallery?'".
As well as the paintings on the walls, about 100 more have been housed in cabinets in the same T-shaped room.
These were chosen because they were considered important to the collection but had not been on display because they are sensitive to light.
Dr Monaghan said they had been "hidden away for a hundred years, in some cases".
Works by William Caparne and Peter Le Lievre are included in the cabinets.
The museum's conservators have been busy restoring paintings and frames in preparation for the opening.
Some paintings that no longer had their original frames have also had specially crafted frames made to suit their period and style.
The gallery also holds five artworks voted for by the people of Guernsey as The People's Choice.
These include the top choice, Peter le Vasseur's The Tree of Life.