Guernsey's lifeboat and marine ambulance blessed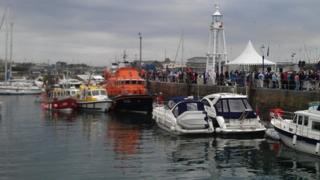 Guernsey's lifeboat and marine ambulance have been blessed
Organised by Churches Together in Guernsey, the service was held at St Peter Port Harbour.
It was conducted by Guernsey's Anglican dean, Canon Paul Mellor, Catholic dean, Canon Michael Hore and clergy from other churches.
Local fishing boats lined up along the harbour wall with the two emergency vessels for the blessing.
Voluntary funding
St John Ambulance Guernsey operates the marine ambulance, Flying Christine III, which is fitted with both medical and search and rescue equipment.
It is on call 24 hours a day for medical emergencies in the waters around Guernsey, Herm and Sark.
Guernsey's all-weather lifeboat, the Spirit of Guernsey, is a Severn class vessel which can automatically right itself within a few seconds if it is overturned in extreme weather.
Both the lifeboat and marine ambulance are funded by donations and bequests.
Traditional sea shanties and hymns were sung at the boat blessing service at Albert Pier, with music played by the Salvation Army band.
Cynthia Cormack from Churches Together in Guernsey said she wants it to become an annual event.