Hope for 'revival' of Guernsey's Market Square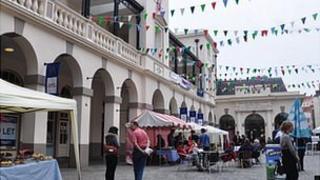 The leaseholder of Guernsey's Market building hopes to revive the area by improving lighting and installing retractable awnings.
Moves to revitalise the area began in 2000, with work beginning in 2003.
Brett Allen, from McAulay Developments admitted previous attempts had failed, but said they were optimistic about their latest plans.
He said: "I believe this is the answer to creating the kind of atmosphere that we want in this end of the town."
Mr Allen said: "We've investigated alternatives for six years now...it will soften it completely and make it much more interesting as far as visitors are concerned."
The biggest ongoing complaint about the redevelopment of the area, which was first used as a market in the 18th Century, was the loss of public toilets in the Market Square.