More recycling bins installed in Guernsey parish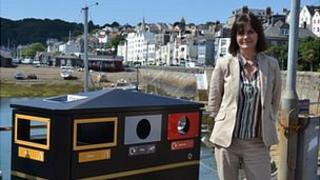 Recycling bins targeted at islanders eating lunch or walking through St Peter Port have been installed in the parish.
Ten bins, which include sections for tins, plastics and general litter, are in place with eight more to follow.
Tina Norman-Ross, States recycling officer, said the Recycling on the Go scheme was aimed at those on the move.
It was launched during a week of Public Services Department initiatives to increase recycling awareness.
States employees will be using a bus, which will be parked in Admiral Park and Market Square, to share tips and tricks for making recycling quicker and simpler.
Mrs Norman-Ross said the department was also encouraging islanders to share their hints and recycling best practice via the Recycling for Guernsey Facebook .
In February the States set a 70% recycling target for the island, to be achieved by 2025.