Guernsey occupation newspapers to be sold at auction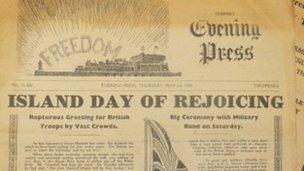 Up to 1,500 Guernsey newspapers published during the Nazi occupation of World War II are to be sold at auction.
The editions of The Star and The Guernsey Press date from July, 1940 to May, 1945 and have been put up for sale by Margaret Blick, of Hampshire.
Mrs Blick said her late husband had them when they married, but she was unsure how he got hold of them.
"He was interested in Guernsey, having spent quite a lot of holidays there when he was a child," she said.
"He was a great reader and also he was keen to collect things."
Mrs Blick said she decided to part with the collection after a pipe burst in her attic, where the papers were kept in a box.
"I decided that anything that was about that I didn't need, I would have to dispose of," she said.
Claire Chalkley, of Ringwood Auctions, said: "Many of the issues have been printed on just one sheet and the sizes and inks vary as the printers could only use what was available."
No estimate of the price they will fetch has been published, as the company said it was unsure about the degree of interest that was likely to be stirred by the collection.
The earliest edition, dated 1 July, 1940, contains the orders given by the commandant of the German forces to the people of Guernsey as the occupation began.
The 11 orders included a curfew between 23:00 and 06:00, and a ban on entering "the aerodrome at La Villiaze" - Guernsey's airport, which opened in 1939.
Order number two read: "We will respect the population in Guernsey but, should anyone attempt to cause the least trouble, serious measures will be taken and the town will be bombed."
The majority of issues contain Nazi propaganda concerning progress in various theatres of war.
However, the last edition in the collection, dated 10 May, 1945, celebrates the liberation of Guernsey the previous day.
The auction is due to take place on 7 July.
Related Internet Links
The BBC is not responsible for the content of external sites.