Activist Rob Roussel 'honoured' to hear Dalai Lama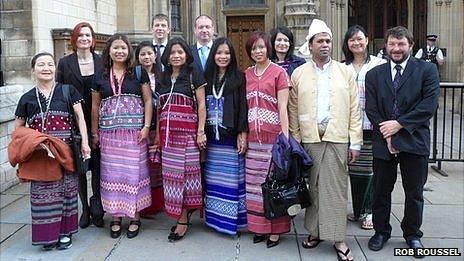 A Guernsey campaigner has been "humbled" by hearing both Aung San Suu Kyi and the Dalai Lama speak in London.
Rob Roussel was invited as an organiser of the Vale Earth Fair, which supports humanitarian causes including Burma Campaign and Free Tibet.
He said: "We, and our supporters, can take heart that we can make a positive contribution to the lives of those who do not enjoy the same freedom as us."
The Vale Earth Fair festival is held on the August bank holiday weekend.
Mr Roussel was one of only a few hundred guests to receive an invitation to Westminster Hall on Thursday
He was there to hear Aung San Suu Kyi speak on her first visit to the UK since 1988, having spent most of the past 20 years under house arrest in Burma.
Mr Roussel said: "It was truly an honour to represent the Vale Earth Fair at such an historic event.
"A few years ago Zoya Phan of the Burma Campaign was on stage at the Vale Earth Fair leading a chant of 'Free Burma', and it is inspiring to think that the Vale Earth Fair has in a small way contributed to the first signs of that message becoming a reality.
"However, we also know that there is a long way to go, as highlighted by ongoing conflict in ethnic areas of Burma, and the scores of political prisoners who remain incarcerated in the country's jails."
On Tuesday, he also attended a public talk by the Dalai Lama at a packed Royal Albert Hall at the invitation of Free Tibet.
This was followed by a reception for Free Tibet supporters to mark 25 years of campaigning for human rights and freedom for Tibetans.
Related Internet Links
The BBC is not responsible for the content of external sites.