Guernsey Street Life Pastors aim to cut crime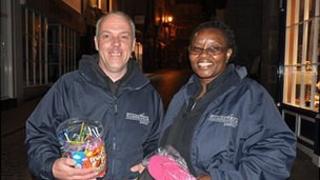 Could something as simple as giving out lollipops and water halve crime in Guernsey's town centre?
It can according to one of the organisers of a new initiative set up in St Peter Port, which sees volunteers from local churches walking the streets on Friday nights.
Street Life Pastors started in April inspired, said organiser James Herring, by the Street Pastor scheme in the UK, which has 9,000 volunteers in about 250 teams.
"We have about 30 volunteers from local churches and they are on a rota and give up one or two Friday nights a month from half 10 until three o'clock in the morning," he said.
"We are there just to help people out, to diffuse aggression and just be a general positive sober presence.
"Our goal is to see the crime rate in town on a Friday cut down by 50%. We haven't got enough stats yet, but so far we feel we're being a really positive presence."
Volunteers trained
Walking in pairs around the streets the pastors offer lollipops to passersby as a way of starting conversations.
They also offer water to those who may be dehydrated from drinking alcohol, flip flops to women struggling to walk home in heels, as well as first aid when needed.
Mr Herring said they approached Guernsey Police to get their support for the project.
Sgt Mandi Randall, who researched similar projects in the UK while they were considering the application, said she was surprised how quickly the scheme had become an established part of late-night life in the town.
"Alcohol can have an effect on some people that makes them quite upset," she said. "[The volunteers] have people open up to them quite a bit.
"There's then ongoing welfare benefits of this as they put people along to other agencies and they get further help if they need it."
The volunteers undertook training before hitting the streets, including first aid, safety and drug courses to help them identify when someone may be under the influence of something other than or in addition to alcohol.
'Restores confidence'
Mr Herring said the most common issue they found was people who were lonely or had been left behind by friends.
He said the volunteers had been "desperate to help, to improve Guernsey to make society better".
Mr Herring said: "Where ever society is not quite as good as you want it to be that's what the local church is for.
"If it's not doing that there's a big problem there."
Whilst the majority welcomed the opportunity to talk to someone, and very few turned down a lollipop, there was some who were put off simply because it was run by Christians.
Sgt Randall said the scheme was helping restore some people's confidence in going out in the evenings.
"[Some people] seem to think the town's a scary place to go in the evening, which it's not, but if they see there are these volunteers out there helping and pacifying people that's a positive for everyone," she said.