Sark carriage crash tourist named as Dora Jufer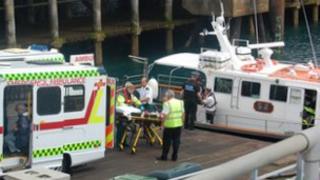 A Swiss tourist who died in an accident involving a horse-drawn carriage on Sark has been named.
Dora Jufer, 67, from Melchnau, suffered head injuries when she was thrown into the road, on Tuesday, police said.
She was on an island tour with seven other Swiss tourists and driver, who were all injured, when the carriage hit a hedge and rolled over.
Guernsey Police and an accident investigator are assisting the Sark constable with the investigation.
Insp Terry Coule, from Guernsey Police, appealed for witnesses and said: "At the moment we're keeping an open mind into the circumstances leading up to the incident."
The crash on the Channel Island happened at about 12:15 BST.
All nine of those on board the carriage were taken to the Princess Elizabeth Hospital, in Guernsey, for treatment.
Mrs Jufer was admitted but later pronounced dead. Her husband has been released from hospital and police said he was planning to return home to Switzerland.
Four other people injured in the accident are still being treated at the hospital and have been described as being in a "stable and comfortable condition".
Sark resident Annie Dachinger was one of the first on the scene.
She said: "It was a horrible scene, the carriage was lying on its side across the road and there were a couple of people obviously very seriously injured lying in the road where they'd been thrown from it."
She said she was deeply shocked and saddened by the woman's death and that "shock was rippling through the whole community".
Police confirmed the carriage driver voluntarily gave a breath test and they have ruled out alcohol being a factor in the incident.
Cars are banned on Sark - only tractors and horse-drawn vehicles are allowed.