Guernsey court gives drug importers five years in jail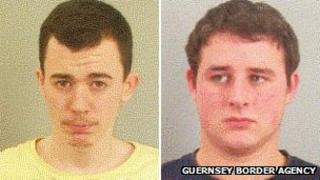 Two British men who attempted to bring heroin and cocaine into Guernsey were jailed for at least five years each by the island's Royal Court on Monday.
Joseph James Jumeau, 21, from London and Kieron Jonathan White, 22, from Portsmouth arrived in the island on a ferry on 23 January.
They were found to be carrying drugs and were charged with importing 4.12g of heroin and 27.15g of crack cocaine.
Jumeau was sentenced to five years and White to five years and six months.
A Guernsey Border Agency spokesman said the drugs had a potential local resale value of £10,000.
When the pair arrived in the island they were among passengers examined by a drug detection dog, who indicated the presence of controlled drugs.
The spokesman said after initial denials to Guernsey Border Agency officers both admitted carrying packages internally.
Jumeau was found to be carrying 21.56g of crack cocaine and 2.16g of heroin and White 5.59g of crack cocaine and 1.96g of heroin.
The Border Agency spokesman said: "This was a significant seizure of Class A controlled drugs with the agency's detector dog team.
"The detector dog works in all areas at the Bailiwick's borders and is regularly used to screen the arriving post and freight consignments as well as the more visible passenger and vehicle searches."