Condor Ferries cancels sailings for repairs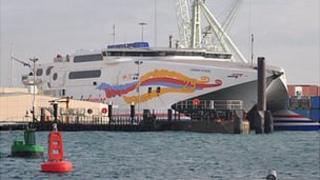 Several Condor Ferries services have been cancelled or delayed due engine failure on one of its ferries.
Condor Vitesse is due to be dry-docked for two weeks from Sunday to allow one of its four engines to be replaced.
Some services between the islands, France and the UK have been rescheduled and 10 of its services between Poole and Cherbourg have been cancelled.
The company said it was working to help those passengers affected make changes to their travel plans.
Ian Milner, Guernsey director of Condor Ferries, said: "We have made the decision to fit a new engine before the peak summer season begins in order to avoid disrupting the majority of passengers.
"We do have access to a reserve engine and this has considerably reduced the length of time that the ferry is out of the water, but the replacement will take approximately two weeks to fit."
Further rescheduling is expected for a trial period after the new engine is fitted.
The daily journeys between Poole and Cherbourg are a joint venture between Condor Ferries and Brittany Ferries.