HMS Guernsey ensign hung in St Matthew's Church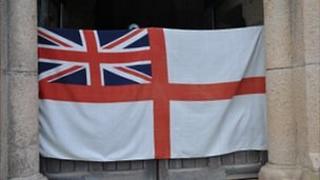 The last white ensign flown by HMS Guernsey has been hung in St Matthew's Church at Cobo as a permanent memory of the ship and its link to the island.
The church was chosen because of its links with the island's fishing community.
HMS Guernsey spent most of her 27 years in the Royal Navy as part of the Fisheries Protection Squadron.
Colin Ferbrache, the only Guernseyman to command the ship, said it was great the ensign was being displayed.
He served on board from December 1983 to June 1985.
Mr Ferbrache said his time on board his first command included shadowing Russian navy ships, taking the ship to Gibraltar for a refit and the highlight was bringing the ship into St Peter Port Harbour three times.
He said: "Guernsey is always one of the most popular visits in the British Isles for naval vessels to come to. We're always very well looked after."
The ensign was hung in the church after a special service dedicated to those who spend much of their life involved in the sea, led by Canon Marc Trickey and the Sea Cadets Chaplain Peter Derham.
In 2004 HMS Guernsey followed its sister Island Class patrol vessels, including HMS Alderney and HMS Jersey, in being sold off to the Bangladesh Navy.
A total of four Royal Navy vessels have been named HMS Guernsey.
The island remains officially linked to the Royal Navy through its affiliation with HMS Daring, a type 45 destroyer.