Guernsey's Viaer Marchi festival is cancelled for 2012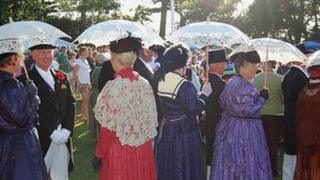 Guernsey's annual Viaer Marchi festival has been cancelled, with no replacement planned during the rest of 2012.
The event was due to take place on 2 July, but was postponed after heavy rain left the ground waterlogged.
The National Trust of Guernsey, which runs the festival, said on Monday it had cancelled the event entirely due to future weather forecasts.
Traditional dancing, food and drinks are a staple of the Viaer Marchi, which will next take place in July 2013.
A statement from the National Trust of Guernsey said heavy rain meant the ground at Saumarez Park could be churned up and damaged.
"The format of the Viaer Marchi is so closely identified with Saumarez Park that any alternative venue represents a major compromise," it added.
Last year's Viaer Marchi raised more than £30,000 for the National Trust.