Guernsey to hold emergency exercise after Jersey gas fire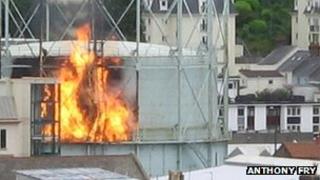 Emergency services are to stage an exercise at Guernsey's gas storage facilities after a fire in Jersey last week.
Paul Whitfield, Chief Officer of the Home Department, said the simulated blaze would take place in November.
A fire at a gas storage tank in Jersey on 4 July saw hundreds of people evacuated from their homes.
Mr Whitfield said he was confident Guernsey could cope with a similar incident.
He said commercial businesses in the vicinity of the cylinders at Bulwer Avenue, St Sampson, were prepared to deal with a fire if it should occur.
Mr Whitfield also confirmed a fire main in St Sampson, close to the site of the island's gas containers, is working well, despite still leaking water.
Another emergency exercise is expected to take place early in 2013.