Former Guernsey Bailiff Sir Charles Frossard dies at 90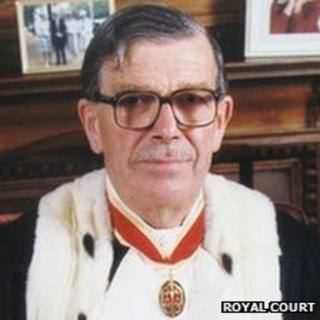 Sir Charles Frossard, a former Bailiff of Guernsey, has died at the age of 90.
Sir Charles was involved in island administration for most of his working life, after first being elected to the States of Guernsey as a deputy in 1958.
He subsequently rose to the post of Conseilleur in 1967 and was appointed Deputy Bailiff in 1977, then Bailiff in 1982. He was knighted the next year.
Richard Collas, the island's current Bailiff, said Sir Charles had "served his beloved island with distinction".
As a legal student at Caen in France, his studies were interrupted by the German invasion and he escaped to England.
'Distinguished son'
After war service with the Tochi and Chitral Scouts in the north-west frontier of India, he returned home and was called to the Guernsey Bar in 1949.
In addition to his public service, Sir Charles was a member of the Church of England General Synod between 1960 and 1982 and President of the Indian Army Association.
After retiring as bailiff in 1992, Sir Charles remained an active judge with the Channel Islands Court of Appeal until 1995.
St Peter Port's Frossard House, the building which currently houses many of the island's government departments, is named after him.
Mr Collas said: "Guernsey has lost a most distinguished son, who enjoyed an extraordinary lifetime of remarkable achievements."
Sir Charles leaves a wife, Betty, and two daughters, Marguerite and Jeanne.