French yacht sinks off Sark and six people are rescued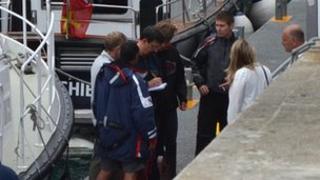 Six people have been rescued from the sea after a yacht sank in the English Channel shortly before 14:00 BST.
The French boat Balkan was taking part in the Tour des Ports de la Manche event when it sank north-east of Sark.
The Brecqhou Lass and Brecqhou Chief vessels carried out a rescue, assisted by a French helicopter from Cherbourg.
Guernsey Harbours confirmed that the six people, believed to be five men and one woman, were taken to St Peter Port in Guernsey to be checked over.
Captain Peter Gill, Guernsey's harbourmaster, confirmed the yacht had completely sunk and there was debris from the vessel in the water.
The crew arrived at St Peter Port at 15:15 BST, where an ambulance crew were waiting for them.