Rare orange lobster to be given to Guernsey aquarium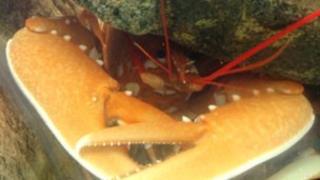 A rare orange lobster, caught off Guernsey's west coast on Wednesday, is to be donated to the island's aquarium.
Alan Vaudin, who has been a fisherman for 22 years, said: "I've never seen a lobster as orange as this before."
Mr Vaudin sold the crustacean to fishmonger Andy Le Prevost, who has decided it should be given a reprieve.
Instead of being sold to a customer to eat, he said it would be kept in a tank at his St Peter Port shop before being given to the nearby aquarium.
Mr Le Prevost said: "It looks like a cooked lobster."
"I've been a fishmonger for four years and before that a fisherman for 30 years and I know people that have fished a lot longer and we don't know anyone who has ever seen one before."