Channel Islands tide warning after boys rescued from rocks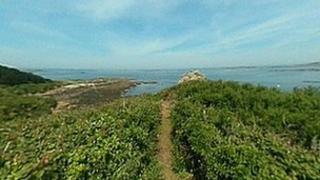 People on the Channel Islands are being warned to check tide times before venturing on to exposed rocks after two boys had to be rescued.
Guernsey Ambulance and Rescue Service found the two boys stranded near to the Fairy Ring at Pleinmont on Saturday.
They were rescued by the service's inshore boat. A spokesman said they had been climbing rocks and were unaware of the incoming tide.
He added that it was important to check tide times to avoid being cut-off.
One of the boys raised the alarm by using his mobile phone at about 18:00 BST.
Both were returned to shore unharmed.