Guernsey Airport: Levelling work on runway begins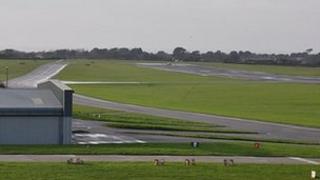 Preliminary work has begun on the laying of a new runway at Guernsey Airport.
The project, which will involve levelling-out the runway, is part of an £80m scheme to upgrade the runway, aprons and safety areas.
The work, which will take place after the airport has closed each evening, is expected to last about 12 months.
It will involve filling-in significant dips on the surface of the runway and then laying a new asphalt surface.
The current runway was built in the late 1950s and was last resurfaced in 1974.