Guernsey harbour master warns of danger to vessels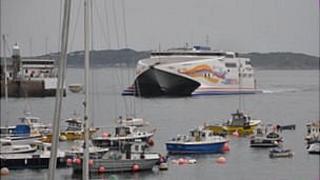 Sea scooter riders are being warned they may be taken to court if they continue to flout marine laws.
Guernsey harbour master Captain Peter Gill said cruise liner captains have reported many riders passing too close to ships.
He said they were "a distraction and a danger" to shipping and repeat offenders would be prosecuted.
Capt Gill said: "Groups have also been seen jumping across the wake of commercial ferries."
He said speed limits were also being ignored.
Capt Gill said: "Unfortunately and regrettably it is the acts of an irresponsible small minority that can give a bad name to the many.
"Will it take a serious accident, or worse, before they all act responsibly?"