Alderney Roman fort future discussed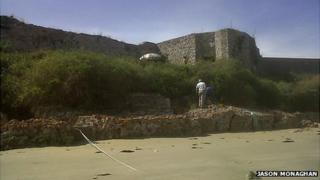 The Channel Islands' oldest standing building could become a visitor centre.
The building in Alderney, known as the nunnery, is the best preserved Roman small fort in Britain, according to the director of Guernsey Museums.
Dr Jason Monaghan has been involved in the archaeological digs held at the site in Longis Bay over five summers.
He said tourism was one part of discussions into the future of the very important historical site.
Dr Monaghan said: "Over the past five summers we have teased out the evidence that the nunnery is indeed a Roman fort.
"This has been long debated, but not proved until the current dig campaign.
"This is probably one of the most intact Roman forts of the Western Empire and it's certainly the only standing one of its class and it's probably the best in Britain.
"It's a typical late Roman small fort, all the others in Britain are basically just marks in the grass or a few stones sticking up out of the ground, ours is standing to 8m above its foundations, so it's really something quite special.
"The tower wall is 2.8m thick, made of very, very solid Roman concrete...the fact that it's a useful building in a perfect place for defending the bay has meant it's survived.
"The lovely thing about the nunnery is because it is there you can understand it, so even people who know nothing about the Romans or fortifications can go there and get it immediately.
"We think it was built in the middle of the 4th Century AD and the really interesting thing is it's been occupied almost ever since as far as we can see."
The excavations have found that after the Romans left it was occupied in the Middle Ages, then by the Tudors and it was the home of the Governor of Alderney.
It was also a farm, a barracks, used by the occupying German forces in World War II and was possibly a nunnery at some time.
Dr Monaghan said he and his team were planning to produce a formal academic report on the excavations as they had already had a great deal of interest in the work.
He said discussions on the site's future were being done between the island's government, the Alderney Society, the tenants of the nunnery, Guernsey Museums and other interested parties.