Higher value drugs seized by Guernsey Border Agency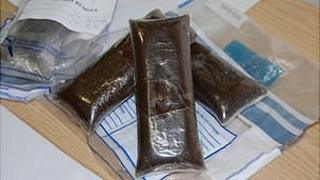 The value of the drugs recovered by Guernsey Border Agency in 2011 was double the year before, despite them making fewer seizures.
Its 2011 annual report shows officers made 114 seizures with a total street value of £415,809, compared to 257 seizures valued at £191,732 in 2010.
Andy Snell, an investigation officer, said illegal drugs commanded high street values in the island.
He said this was why criminals tried to import commercial quantities.
There was also a year-on-year rise in convictions, with 46 people convicted in cases involving the agency, of which 22 involved drug-related offences.
The agency said it benefited the island's treasury by selling the assets seized from drug couriers, which last year included two boats.
It also handles the collection of import duty on fuel, wines and sprits and tobacco and is responsible for enforcing immigration rules.
Last year nearly 7,000 Guernsey passports were issued, 18 people were refused admission to the Bailiwick and nine were deported.