Guernsey freight down by a third since end of LVCR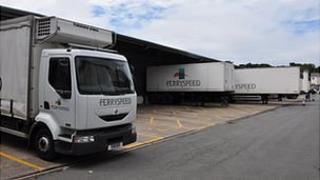 The amount of freight leaving Guernsey has slumped by more than a third since the end of UK tax relief, according to one distributor.
Low Value Consignment Relief (LVCR) allowed VAT to be waived on goods under £15 being imported into the UK.
Martyn Langlois, general manager of Ferryspeed, said since the rule was scrapped on 1 April, the volume they exported had gone down by 39%.
He said: "It was inevitable, but we're surprised at how quickly it happened."
Mr Langlois said: "We're only really seeing the full effect now simply because some of our trailers in the potato season were being sent to Jersey to be used over there.
"It'll stabilise at a lower level and the firms will have to set themselves up at that level as well."
He said it would not affect staffing at his firm, but may mean a reduction in hours for some.
Mr Langlois said: "Over the years we've had the tomato industry, which declined and was then replaced by the flower industry, the flower industry declined and was then replaced by the fulfilment industry.
"The fulfilment industry's now declined and there's nothing to replace it.
"Fortunately LVCR was just part of our business, it wasn't our base business, but anything which reduces volume hits us and every other transport company as well."