Faulty Jersey-Guernsey power cable recovered from sea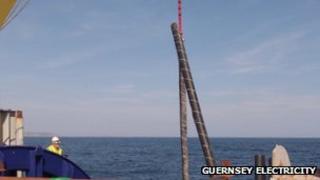 Guernsey Electricity has announced that a faulty section of the undersea cable that runs between Guernsey and Jersey has been brought up from the seabed.
All Guernsey's electricity has had to be generated at the company's own power station since 29 April, when a fault interrupted power on the cable link.
Engineers on the ship Team Oman earlier used a remote-controlled vehicle to recover a 500m (1,600ft) section.
However, the insertion of the new section is expected to be delayed.
Guernsey Electricity director Sally-Ann David said: "The Team Oman will return to Portland [on Wednesday] to resupply the vessel and avoid the forecasted adverse weather due to come in towards the end of the week."
"The faulty section was found where we expected it to be, following the original survey vessel's tests conducted at the beginning of July," she said.
The faulty section has been sent to laboratories in the UK for examination, with results expected to take several months.
Guernsey Electricity has warned that bills may have to increase to compensate for the additional expense of producing power on-island, while the cable is out of action.