St Peter Port gang rape trial finds three men guilty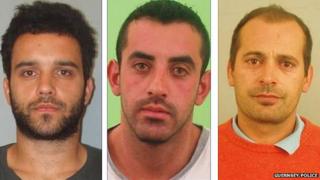 Three men have been found guilty in a Guernsey court of the gang rape of a 22-year-old woman in St Peter Port.
Bruno Loreto, 30, Ruben Almeida, 28 and Jose Pinto, 40, had each denied one count of rape but were convicted following a unanimous verdict.
Pinto had admitted indecent assault. The three men were remanded in custody by Judge Russell Finch and will be sentenced on 12 October.
The woman gave evidence behind a screen during the trial.
She described having blurred vision after being bought a drink at Les Folies nightclub.
She got into a car and ended up in the attic of a house on Rouge Huis Avenue.
She told the Royal Court: "I remember the attic room where bad things happened."
Following the jurats' verdict, Det Con Gregg Stuart said the attack in August 2011 had been vicious.
"It's up there on levels of severity with anything you'll come across anywhere," he said.
He said the investigation involved telecommunications and forensic experts and relied on witnesses coming forward.
He urged women going out to clubs in Guernsey to "text each other or call each other to make sure you get home".