Guernsey air display VIP tickets to entice new friends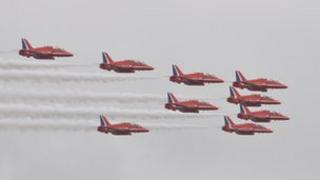 Guernsey Air Display organisers have offered the prospect of VIP tickets and souvenir Red Arrows pin badges in an effort to make up a funding shortfall.
The annual display, featuring the Battle of Britain memorial flight and various aerobatics teams, is mainly funded by companies and the States.
However, it is hoped a further £4,000 will be raised each year by asking islanders to sign up as "friends".
Organisers have previously warned the display could be cut.
Those who sign up will be required to pay an annual fee of £10.
For that, they will receive the Red Arrows badge and be entered into a draw for three pairs of tickets to a reception lunch at Castle Cornet during the display.
'Appeal to islanders'
Michael Perrett, the chairman of the Guernsey Air Display Consortium, said he hoped the support programme would "appeal to islanders of all age groups from school children to grandparents".
The event commemorates the British airmen and crew who fought against the German Luftwaffe between June and October in 1940.
The Guernsey display has been held since the 1960s - traditionally on a Thursday morning in the autumn.
The next has been scheduled for 13 September.
Funds are raised during the event for the Royal Air Forces Association's Wings Appeal, which helps serving and former air force men and women.
Last year's display raised £21,000 despite the cancellation of the star attraction - the Red Arrows - due to poor visibility.