Vandalised Guernsey cow to go back on parade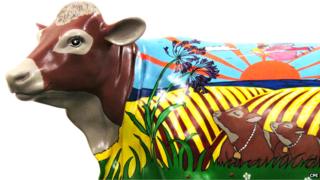 The organisers of the Guernsey cow parade hope to put a vandalised fibre-glass model back on display by Tuesday.
The cow, which was painted by artist Melissa Ay, was damaged on Saturday outside St Martin's Parish Hall.
Trevor Wakefield, a director of the Guernsey Adult Literacy Project, said: "The head was almost completely off and one side of the face was missing."
Mark Cook, a model maker at the art department of the College of Further Education, has undertaken repairs.
Ms Ay has agreed to repaint the cow before it goes back on show but Mr Wakefield said it would be displayed in a different location.
Auction funds
"It's difficult because you want people to be able to get at them easily so they can go with their families and take photographs but at the same time we have to ensure that they're not too vulnerable," he said.
The charity, which has arranged for 52 cows to be displayed around the island, will auction them off in September.
Mr Wakefield said the cost of purchasing and displaying the cows was only just covered by sponsorship, so the charity depended on the auction for funds.
He said the project helped about 100 people with reading difficulties each year.
"It enhances their lives - no question," he said.
Three people arrested by Guernsey Police in connection with the incident have been released on bail.