Guernsey Electricity power station switch room purged of gas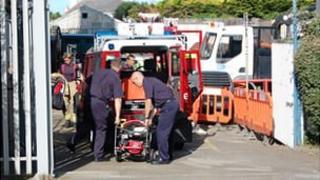 Gas has been purged from a switch room in Guernsey's power station after a high voltage fault.
The incident in one of the 11,000 volt switch rooms occurred at 06:13 BST and extinguishing gas was released to deal with the fault.
Firefighters ensured all the gas was purged and ventilated so engineers could assess what happened.
Guernsey Electricity said no supplies were lost, but there was a voltage dip that would have caused lights to dim.
Bob Beebe, operations director, said: "[The fault] was caused by a cable which had short circuited.
"When the fault occurred, a small amount of smoke was created which triggered the highly sensitive fire protection system. This initiated carbon dioxide, a fire extinguishing agent, to be released into the switch room.
"The Guernsey Fire service attended to ensure that the carbon dioxide was safely ventilated."
He said short circuits in cable occurred quite frequently, but usually in cables underground, and repairs were under way.