Carl Hester Olympic success 'raising Sark's profile'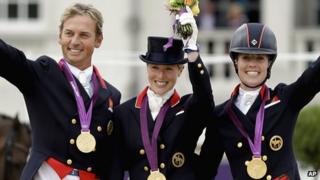 Interest in the Channel Island of Sark has more than doubled since Carl Hester, who was born in the island, won gold with the GB dressage team.
Karen Adams, who sits on the tourism committee, said website traffic had risen by 150% since Tuesday.
She said there was also a big increase in telephone and email inquiries.
Mrs Adams said with Mr Hester and individual gold winner Charlotte Dujardin due to visit next week it was "a really exciting time".
She said the biggest interests had come from "the UK, Europe and especially Canada - not sure if dressage is big in Canada but there's been a dramatic rise there".
Hester was born in Sark and developed a passion for riding before moving to Hampshire aged 19 to work at a riding school.
He now lives and trains in Gloucestershire.
After gold in the team event on Tuesday he finished fifth in the individual dressage on Thursday, while his GB teammates Charlotte Dujardin and Laura Bechtolsheimer took gold and bronze respectively.