Training at Alderney's Fort Albert to use live bullets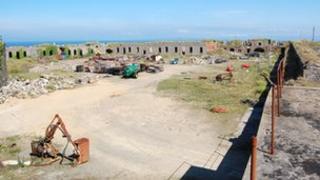 Bodyguards will use live pistol rounds at a new training centre being created at Fort Albert in Alderney.
The UCP Group has begun clearing the derelict fort overlooking Braye Bay, to turn it into an outdoor training area.
The group trains ex-servicemen who want to work as bodyguards for companies, celebrities and royal families.
Criss Watts, the company's chief executive, said: "We're training close protection and obviously the weapon of choice is a handgun."
"It's very hard to do [the training] in the UK," he said. "In the UK, you're not allowed to fire a live weapon unless you've got a licence."
In Alderney, a Dangerous Weapons law dating back to 1965 allows the discharge of live rounds on a certified range.
The company has academies in Europe but Mr Watts said "we really wanted something under the umbrella of the UK".
UCP has signed a deal with the States of Alderney to enable it to use the fort.
Recruits will be housed at the former Connaught Hotel in St Anne, which is to be renovated in a Victorian style.
The company plans to expand the use of Fort Albert in future.
Mr Watts said: "Right now, it's just for private security.
"We're hoping in a year or so, maybe two years, we can open it up to corporate events... and tourism."