Guernsey colleges continue 100% A-level pass rate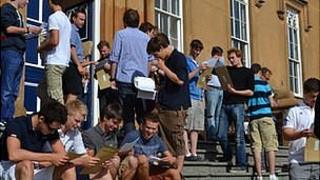 Two Guernsey colleges have continued to reported overall A-Level pass rates of 100%.
It is the third year in a row students at Elizabeth College and Ladies' College passed all the exams they sat.
George Hartley, Elizabeth College principal, said: "A really superb set of results for the students themselves, for the college and for Guernsey."
The island's only States-run school offering A-levels had a pass rate of 99.7%, making the island average 99.9%.
Students at the Grammar School also bucked the British trend by increasing the A*-A pass rate from 23.7% to 29.2%.
Full-time students at the College of Further Education reported a 98% pass rate in level 3 vocational courses, the same pass rate as in 2011.
Education Minister Robert Sillars said: "I know that our students will have worked extremely hard to achieve these excellent results.
"I am particularly pleased to see that the numbers of students being awarded the highest A* and A grades at the Grammar School Sixth Form Centre has increased this year in contrast to national results.
"I'm sure this will put them in good stead for what they decide to do next whether that is to continue in education at university or start their first job."